I know that I have been casting my mind back a lot more recently and this has been down to the constant number of reports I have read in the last few months that tell of the decline of many species that were common when I was a child in the 70s and the 80s.  This fact really hit me hard the other day after watching the small flock of 21 Linnets on the Lammas fields in Godalming. The other factor is that I'm getting old!
After seeing these Linnets, I suddenly thought about when I was a child; part of my school summer holidays were spent in Raspberry fields. I was already supposed to be helping my mother pick the soft fruits but spent most of the time wondering about playing with the other kids there in the fields. There was a wheat field at the bottom of the raspberry lines. Often there were small birds feeding on the field edge and they would fly into the lines of raspberries when disturbed by noisy children. Often whilst walking along the lines you could hear a loud twittering, buzzing, whistling and trilling song of the Linnet. I distantly remember nests being found in the Raspberry bushes and remember seeing eggs and young in the nest. I also remember how efforts were made to steer a few bushes clear 'of the nest site to try and let them carry on undisturbed. As I got older and starting venturing further afield in the Kentish country I realised that Linnets were relatively common birds of grasslands, farmland, hedgerows, coastal salt marshes, sand dunes and a few other habitats that can provide a good supply of seeds of both wildflower and agricultural type. Typical of the finch family, Linnets rely on a good supply of seeds to see them through the winter. The field near me does have a good supply of wildflower seeds and this is the logical reason why I have seen this little flock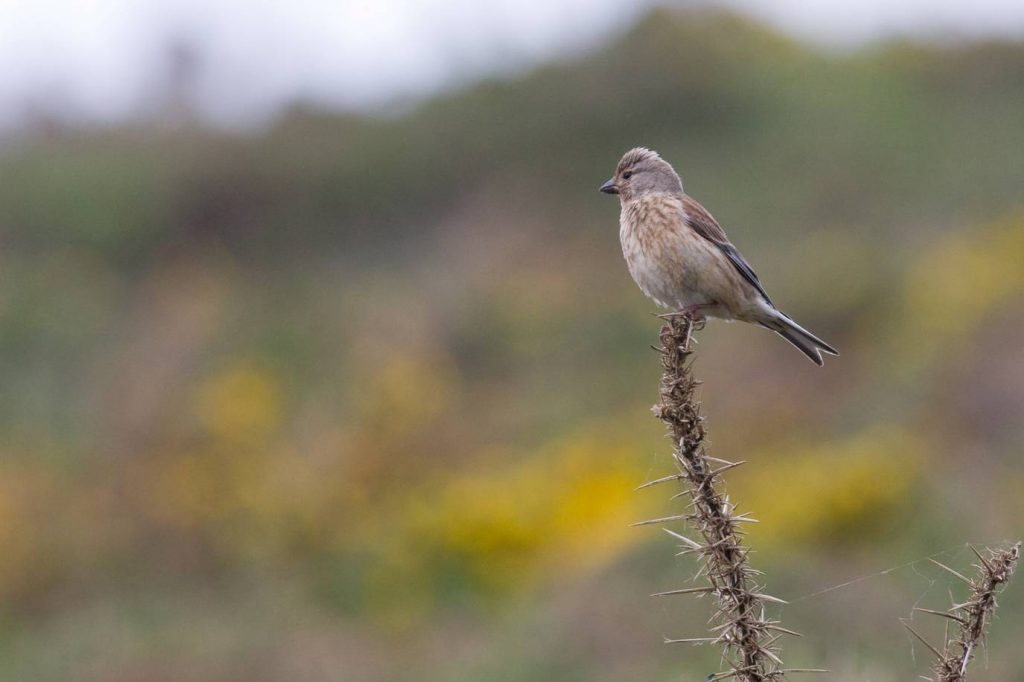 Now I have to be honest and say my recent sightings haven't given me the best views as it was in poor light and the birds were quite restless just before roosting. Linnets are members of the finch family and around 14cm in length that look quite slim in appearance. Their winter plumage sees brown streaks on chest and flanks with a white belly and a greyish head and brown flecks across brown wings with a medium length tail with a small notch. Male birds have a pinky buff colouration on the chest but the sexes are much easier to distinguish during the breeding season when the males have a bright pink chest with a flash of pinky red just above the bill in the grey head that all beautifully contrast with chestnut brown wings, a pinkish rump and white belly. Females are typically subtler and lack the pink colours but are beautifully streaked with browns and greys. The habitats that they breed in has to have thick cover for nest building and they like to build in thick hedges, Gorse and Bramble bushes to name a few. Here in Surrey they are often found breeding in stands of Gorse found on the heathland areas. Like other seed eating species, they change their diet during the breeding a bit to incorporate insects that they will feed to their young for vital proteins.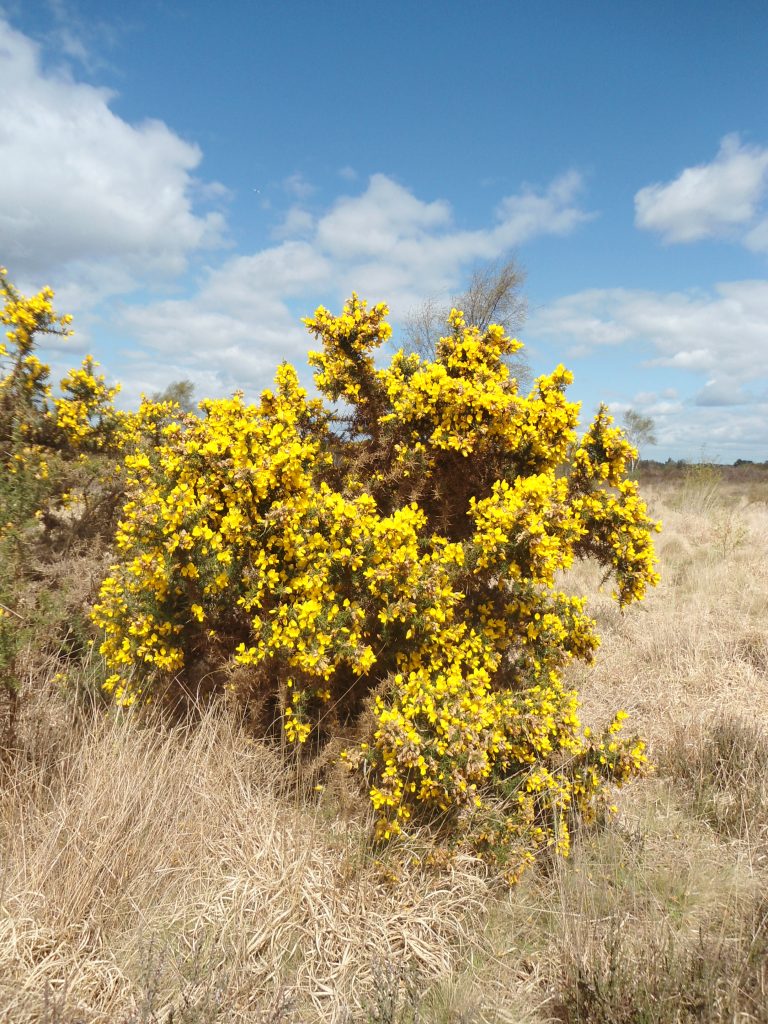 Linnets breed across Europe to north Africa and eastwards to central Russia. Birds that breed in northern and eastern Europe will migrate south and west during the winter months and some of these birds will spend the winter in the UK. In the past I have seen, in the early spring, migrant birds on the east coast heading north possibly on their way to Scandinavia or Russia.
The status of Linnet in the UK has been declining steadily since changes in agricultural practices have occurred since the end of the second world war. With the mass use of herbicide and pesticides and the ' cleaning up' of agricultural land   that has occurred in this time, many species of our native wildlife have badly suffered. Like many small seed eating bird species, Linnets have suffered with the loss of winter stubble fields that used commonly occur throughout our countryside. This habitat was a vital winter food source to this and many other species and good fields would often provide food throughout the winter. Linnets scientific name is Lineria cannabina which shows how long their association with seed supply has been observed, for Hemp used to be commonly grown as an agricultural type crop across Europe. Strangely enough back in 2000 a number of experimental Hemp crops were grown around Guildford and in the autumn, I observed a flock of about 150 Linnets along with various other finch species and House Sparrows all feeding on the hemp seed. I think this was one of the last stubble fields I have seen in Surrey. Interestingly enough from the mid 1980s the population decline steadied and levelled until further declines were noted from the mid 1990s and the reason being for this was probably due to the increased planting of Oilseed Rape crops that provided a vital seed supply for the Linnets. This point shows us how birds will adapt to new food supplies and on another level, this shows how government agricultural policy can affect the wildlife in that area but unfortunately most polices seem to have harmed our wildlife rather than helped it. Interestingly enough, of all of the local breeding Linnets I know of, are all in conservation areas and not on agricultural land. Proves the point really. I'm sure there are a few pairs on some farms locally but probably not as many as there used to be.
My recent observations have made me happy to know that there are still in the area and I will try to keep a closer eye on the situation this year and hopefully find a few pairs of breeding Linnet in the loyalty and look forward to hearing their amazing song in the spring being sung by a pinkie brown male bird in a Gorse bush. Keep your eyes and ears open for them when you're out and about and you will see and hear what I'm talking about. Good luck!
News Update
At least 48 birds were observed going to roost the following evening. There's a few more about than I realised which is good to see