When we watch and observe wildlife, there are two questions that generally come into our heads (well they do in my head anyway!) and they are what is it and what is it doing. The identification of species can be extremely easy and extremely difficult depending on the species in question. I know I have spent many hours trying to find out the identification of a whole host of UK Wildlife and have learnt a great deal over the years. After identification is established you start to look at what is this species doing and why have I found it here. With these thoughts you are starting to enter the science of behaviour.
The behaviour of our wildlife can be studied on all sorts of levels from casual observations to full blown PhD studies. For us humans who have an interest in the wildlife around us and take a bit of time to observe it, there is nearly always something to see and understand.
When I try to think of the thousands of occasions I have observed wildlife during the course of my life, I realise that I have been very fortunate to see these things, but I have witnessed a lot of wildlife species and a lot of behaviour.
One thing I have realised is that you can never stop learning about the behaviour of wildlife and often you see them do things that you weren't expecting. The behaviour of a species can depend on many different factors like where they are, when they are observed, the age of individual and the weather to name a few of the many factors and I find it fascinating how individual species can behave differently in different habitats. I recently observed this with two very familiar bird species that are commonly found in a variety of different habitats. Birds in general are one of our most observed wildlife groups and my observation also has a common factor that they involve food, a very important area of a bird existence and all other species in reality. The food in question was provided by other humans as well.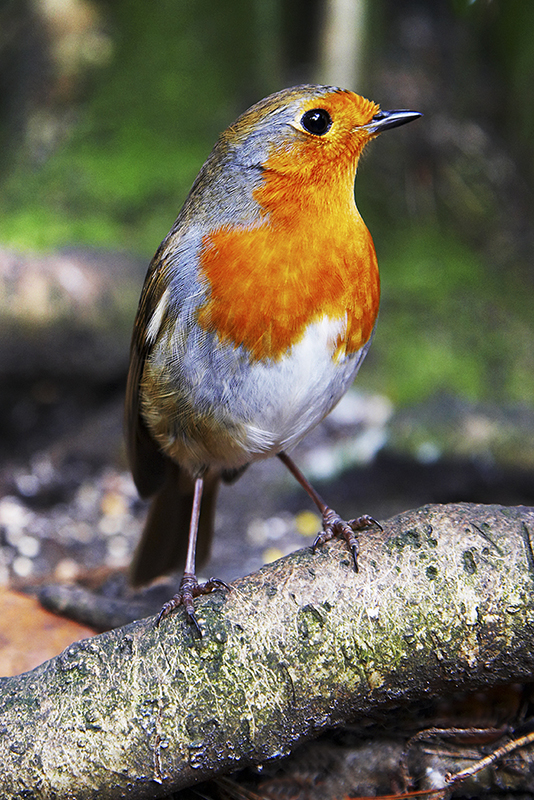 A few weeks ago, I had to attend a hospital appointment and the clinic I was attending was in an outbuilding that had some bird feeders outside the window. I naturally gravitated to a seat close by and watched the comings and goings at the feeding station. I was quite amused to see up to see up to six rabbits grazing on the grass area around the feeding station which was being visited by a good array of species with Goldfinch, Chaffinch, Blue Tit, Coal Tit, Great Tit, Robin and Dunnock all being noted. There was also a Carrion Crow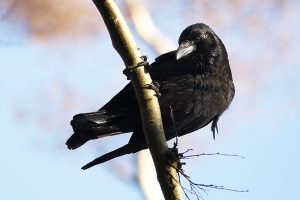 and a Wood Pigeon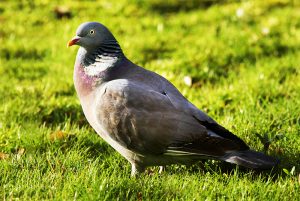 on the ground collecting all the bits that had been dropped. The behaviour of these two species caught my eye and made me ask myself a few questions about this vast subject.
Both these species are familiar and are commonly seen in a variety of habitats which indicates their adaptability and both species have been reasonably well studied and their behaviour is well known. The crow family are known to be highly intelligent and capable of problem solving generally in order to obtain that all important food. Over the years I've watched Carrion Crows, feeding on afterbirth of newly born lambs, dodging cars on motorways to eat the run over pheasants, grabbing sandwiches out of bins, catch a live eel and seen their close relative, the Hooded Crow, drop shells on roads to crack them open to show some examples of their ingenuity.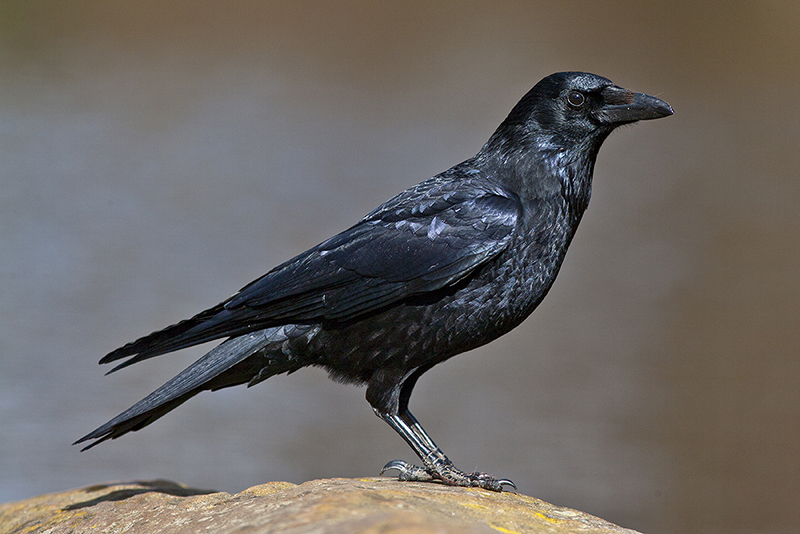 All this behaviour shows a distinct intelligence and shows why the crows are generally doing well in the UK.
Now the other species I mentioned, the Wood Pigeon, is also a familiar sight in a variety of habitats and in recent times has spread into urban areas and is now a familiar sight in many UK towns. I have observed many Wood Pigeons over the years and watched flocks of 1000s feeding on winter fields, seen them stuffing down acorns, watched migrant birds arriving from the continent and in more recent times they are regularly attracted to bird feeding stations. Wood Pigeons seem to be mainly interested in two things; food and sex. The food issue seems to be relentless in their daily lives apart from when their having sex! So, as I sat and watched the bird feeding station at the hospital, the Wood Pigeon was busily hoovering up all the left overs but seemed to get quite agitated when the Carrion Crow arrived. The Crow was typically flying in and grabbing a few beakfulls of food before flying off. I thought this was quite normal behaviour knowing how wary they are when so close to humans. After a few minutes I watched the crow repeat this procedure but this time was what I can only describe as 'attacked ' by the seemly enraged Wood Pigeon. It seemed a little strange to me as I assumed, the Carrion Crow with its hefty bill and ability and intelligence to defend itself against a Wood Pigeon. The Pigeon repeated this manoeuvre on a number of occasions as I waited for my appointment, all with the same result.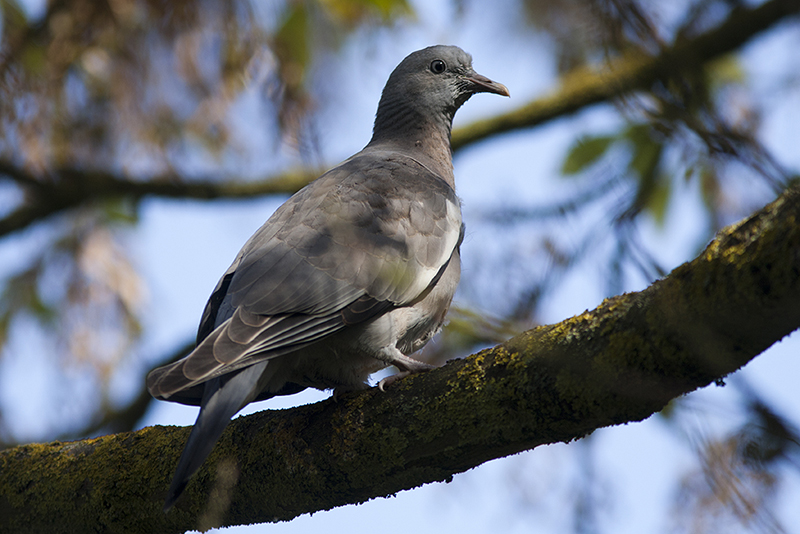 Why was this happening? Did the Wood Pigeon see the crow as a threat to its food supply? Was it an inbuilt mobbing reaction to the crow knowing that Carrion Crows will regularly eat Wood Pigeons eggs and young or was it something else? I was a little puzzled and even more so a few days later as I stood in my partners house and watched the birds in the back garden busily feeding on the delights that had been put out for them. It wasn't long before a couple of Wood Pigeons appeared below the feeders. They started to feed but were quickly dive bombed by one of resident Carrion Crows who chased them out of the garden as quickly as possible. My mind instantly went back to my hospital visit! I continued to watch for 20 minutes and saw the same behaviour on 3 more occasions. These resident crows had often been observed chasing Magpies, Collared Doves as well as Wood Pigeons
In my mind these Carrion Crows were defending a food source that they used regularly and by chasing the Wood Pigeons and other species mentioned away they were protecting a valuable food source and were prepared to aggressively defend this valuable food source. So, the behaviour of these two species appeared to be completely different at these two locations and looking at some of the reasons I've explored here I feel it's safe to say that the aggression shown by both species was about protecting food but am still questioning the apparent reversal of aggression shown at the t wo different sites. As I said earlier there are potentially many reasons why these species behaved in the ways I observed them and I could waffle on about possible theories but in an ideal world I could spend time at both sites observing the behaviour to try and uncover more evidence to aid my understanding. This is starting to sound like a PhD study! I'm not that intelligent and unfortunately have real life to contend with as well but what I have tried to show you with my simple observations is an introduction of what you can observe yourself if you take a little time to watch our wildlife. As I said earlier there are always several factors that influence how species behave and the more observation, the more knowledge gained which in turn may lead you to more understanding.
Next time you are out looking at wildlife I suggest you take a few moments longer when you see a species and see if you can note any behaviour patterns, you never know where it may take you and the species in question. Go and see what you can discover!