When I am out and about looking for wildlife I always look at the habitat I'm in to guide me to think about the potential species that may be encountered. If you visit an area with any regularity you will see certain species in certain areas and can therefore gain knowledge about the species and what requirements they like and need within that habitat. I regularly visit the river and fields here in Godalming and within these habitats there are micro – habitats that look to the untrained eye, untidy or messy. I am referring in particular to one micro habitat that anyone who takes time to walk in the country or has a garden will probably be familiar with and that is the bramble patch.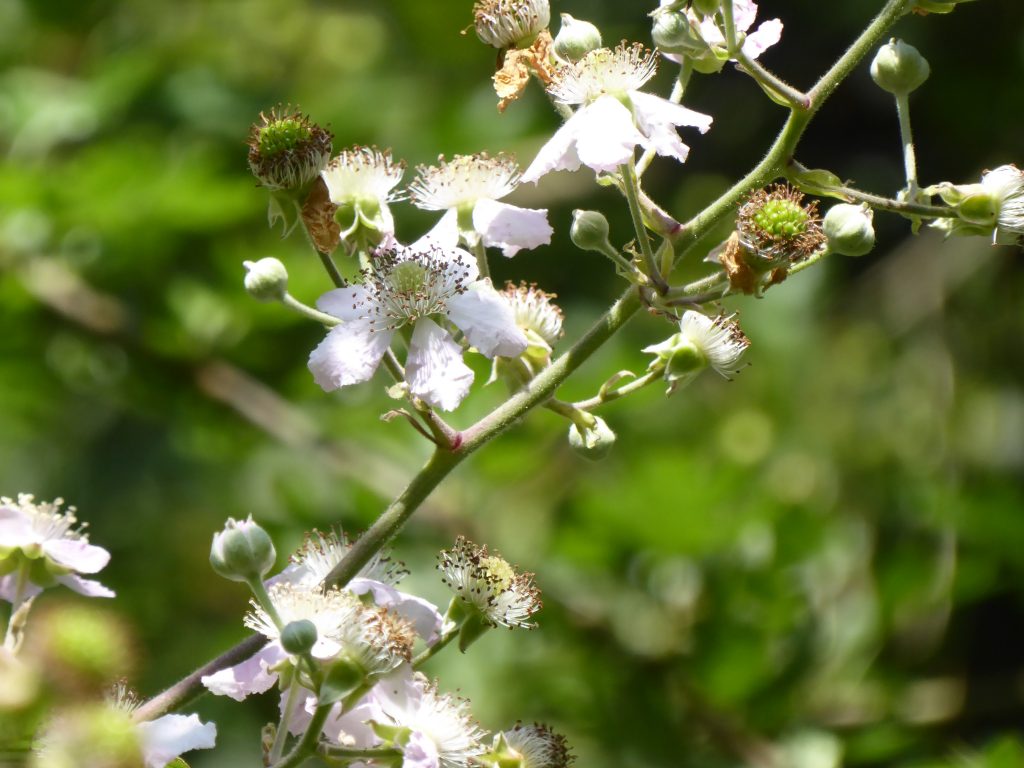 The Bramble or Blackberry is a very common plant found throughout the UK in a variety of habitats from woodland to moorland. It can grow in soils that are acidic and low in nutrients which leaves very few areas that you will not find a bramble patch. Brambles are very familiar to most people from the fact they are found everywhere and most of us have picked Blackberries in late summer at one time or another in our lives. Humanity has been doing this for a very long time as there are records of blackberry seeds being found in the stomachs of Neolithic ancestors. If humans and our relatives have been eating Blackberries for so long you can guarantee that the wildlife has been doing the same and this week whilst looking at a bramble patches near home, not only was I inspired to write this piece but was inspired to write this because of observations of wildlife involving brambles.
Why is the Bramble such a good species for a whole host of other wildlife? There are some pretty obvious examples of their importance with the Blackberry its self being the most obvious example as many species will feed on Blackberries. They form a vital food source for resident and migrating birds and gives birds energy that are vital for growing and undertaking migration. I remember when I was bird ringing years ago that when we caught birds in August / September they would leave us with a purple blackberry dropping showing us what they had been feeding on and showing the importance of Blackberries in the food chain. They are regularly eaten by Badgers and foxes and I saw Pine Martins eating them whilst I lived in County Fermanagh and a host of insect will find use for them and so from this range of species you start to understand the importance of this species.
Before the fruit appears the white or pinky white flowers provide a valuable nectar source for Honey Bees, Bumblebees, Butterflies and Hoverflies
I have often enjoyed good views of a variety of butterfly species feeding on blackberry flowers including species like Purple Hairstreak which can be lured away from their usual tree top habitat to feed on bramble flowers. Even the leaves of the plant are eaten by some moth species caterpillars and grazed by Roe Deer.
If Brambles are left alone they can grow into quite large patches and these larger patches of Bramble then offer species a place to nest, rest, hide and roost. You probably know from your blackberry picking experiences how sharp the thorns on brambles are and when bramble patches get established they are like a mini fortress that some predators would find difficult to gain access to. Many UK song birds will nest in established bramble patches and over the years I have observed many different species in this habitat. Many Sylvia warblers that migrate to the UK each spring will nest in brambles and this includes Whitethroat, Lesser Whitethroat, Garden Warbler and Blackcap. These scrubland warblers find Brambles perfect for their requirements with good nesting sites, good food4 availability, protection and warmth. All in all, this nightmare of the gardeners, this plant that I have heard people describe as messy is a very valuable part to the UK countryside.
And so, the inspiration for this piece came on two near dusk visits in the last week where in my mind I was meant to be looking for Barn Owl but was distracted by the activity around a bramble patch. I was watching a flock of tits when I saw several birds fly into the bramble patch and whilst searching through the patch I saw3 Blue Titsa Dunnock a couple of Wrens and then a Goldcrest and then another Goldcrest and this turned into at least 4 Goldcrest possibly more hiding in the Bramble fortress. As if this wasn't interesting enough as I was trying to get a view of the Goldcrest when a small flock of Linnet suddenly flew in and settled in the bramble patch. I knew that there was a more than usual number of Linnets than I have observed here before.
Linnet is one of those unfortunate species that has declined dramatically due to changes in agricultural management. Normally a couple of pairs breed in this area each spring and they are maintaining a foothold but I was unaware that they were roosting there. I was also slightly frustrated as I wasn't sure how many were actually in there as it was by then getting dark and the birds were in the bramble calling away. I returned the next day at the same time and saw a flock of 13 Linnets! 
Yet again I felt a strong sense of irony as I stood and watched these fascinating aspects of wildlife on my righthand side for over the river on my left-hand side was a busy noisy super market carpark. If I think about all the wildlife I have seen standing on the path by the river there I am amazed how tolerant the wildlife has become of the urbanisation of this area.
Have a good look at a bramble patch next time you are out and about and you never know what may be lurking in there. Looks can be deceiving and because of the way older bramble patches may look in the obsessive neat and tidy world we live in. As I have hopefully shown you, Blackberry / Bramble is a very important species for a whole host of other species and should be left to grow where ever suitable habitats are available.
I'm well aware of how much gardeners hate Bramble as if unchecked it can take over areas but it can be cut and managed and you can still get the benefits of this familiar plant that I have discussed.