As we have now actually experienced some typical mid-summer weather in the last couple of weeks, I made the most of my not enough spare time and got out for a few expeditions and at four of the sites I visited, one species seemed ever present and that was the Marbled White butterfly.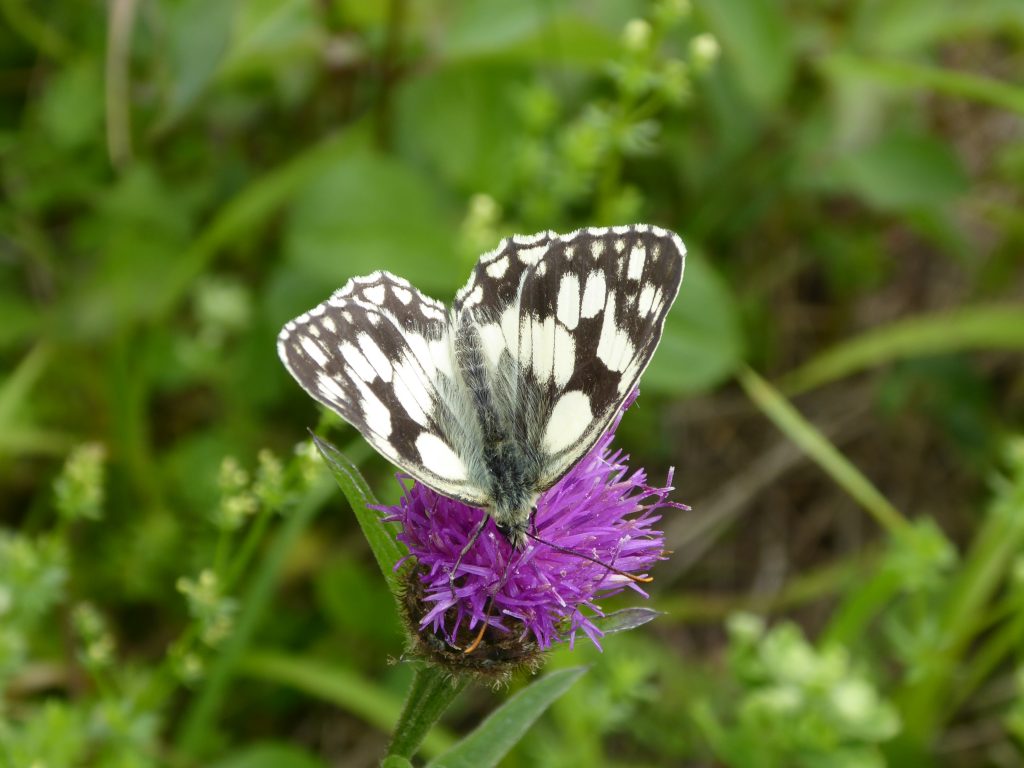 This striking butterfly has been a joy to watch on areas of unimproved grassland and open chalk downland areas along the Hogs Back. I saw my first ever Marbled Whites over 30 years ago at a chalk site called Folkestone Warren in Kent and remembered being impressed with this eye-catching yet subtle at times species. I've had the pleasure to work at a number of sites where they occurred and have always been impressed by their colours and behaviour.
In my recent wanderings I have been really pleased with the numbers of individuals that were on the wing and at one site along Hogs Back well over 150 were present and we also saw them on the grass verges along the A31 as we went home. The visit to Broadstreet Common near Guildford was nothing short of spectacular with 100s being present. It was almost an idyllic image of high summer in an English flower meadow; idyllic apart from the roar of the busy main road only a few 100 meters away!
Me and Steve who was with me, remarked on the good numbers present. I recalled a paper I had read recently saying unlike many butterfly species, Marbled White is a species that is spreading and increasing in numbers in this country.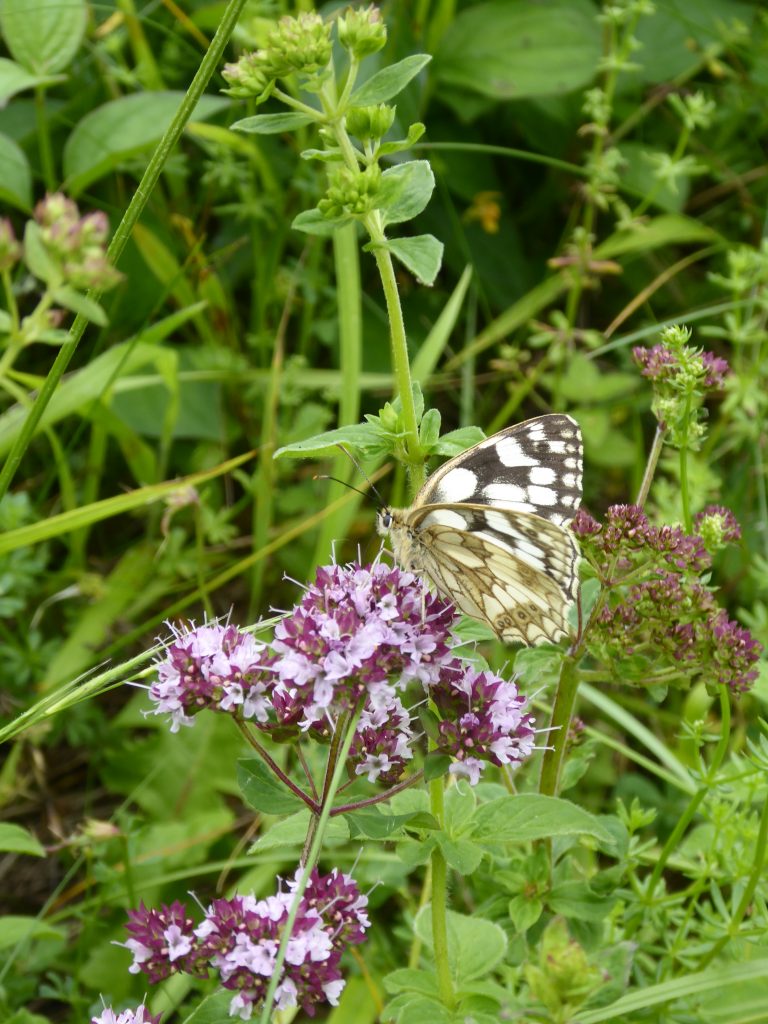 Before we look at why this species is doing well in the UK it's probably worth pointing out a few facts about this eye-catching species. Its name for a start is misleading although understandable as Marbled Whites are not even in the same family as Large, Small and Green Veined Whites which belong to the family called Pieridae. Marbled Whites belong to the family called Satyridae which contains mainly brown species including Meadow Browns, Gatekeepers and Ringlets which are species that are often seen alongside Marbled Whites. There habitat preferences are similar to with unimproved grasslands often being popular for all of these 'brown' butterflies. All of the species just mentioned lay their eggs on various grass species and the Marbled White prefers Red Fescue and Sheep's Fescue although has been recorded on other grass species. These fine leaved grasses provide the caterpillars with all the food necessary to reach a size to pupate. Marbled Whites over winter as caterpillars and are at a very vulnerable at this part of their lifecycle as disturbance of sites can be life threatening during cold winter weather. They normally bury themselves in grass tussocks in cold weather. If they survive the winter they begin to feed on new grass growth in the spring. They enter pupation late May and early June and can be seen as adults from late June through to August.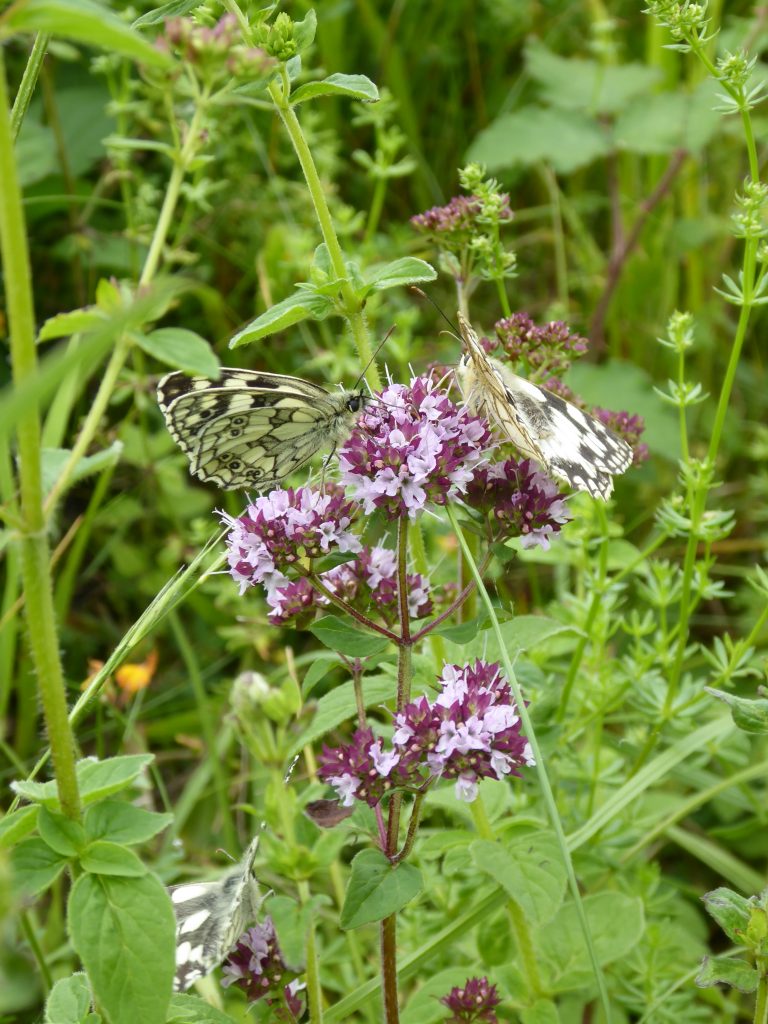 So, what has happened in the UK over the last 40 years to create the spread and explosion in numbers in recent years. When I was a teenager and first started taking a real interest in butterflies, I associated Marbled Whites with chalk downland and read that it also occurred in Limestone and sand areas as habitats of preference. Since those days this species has spread into new habitats like the previously mentioned unimproved grass land areas. Broadstreet Common near Guildford is a site I have known of for nearly 30 years and it is only in the last 10 years that Marbled Whites have occurred there. So why is this happening? The answer is a very familiar one and probably won't shock you to find out the biggest reason for the spread of the Marbled White in the UK over the last 40 years is the heating up of our planet. This is the key reason why there are more about nowadays and to a smaller part their colonisation of different habitats as Broadstreet Common shows driven by the warmer temperature we have been experiencing in recent times. Butterflies across the world are feeling the effects of global warming already as the Marbled White and several other species in the UK are already showing. I feel caught between a rock and hard place over this issue as watching the Marbled Whites has been a brilliant experience and to have seen many so close that you could see the slight variations in the markings between the male and females' butterflies, the male being smaller and darker than the larger females with their brown/orange hues on the undersides of the wing being noted.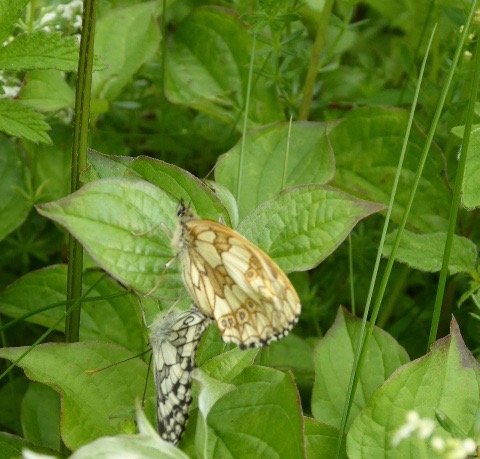 Only in the future will we see how far the effects of global warming can affect our insect populations. I do advise you to go and have a look at some Marbled Whites if you get the chance for they are beautiful butterflies and should be on the wing for a short while yet for you to find them and it's worth checking the grasslands near you to see if any are about. Good luck and enjoy